Sexy Mesh Sexy Baby Letter Stitching Black Perspective Women's Lingerie
Pin It To Get 6% Coupon Now!
---
Material:Polyester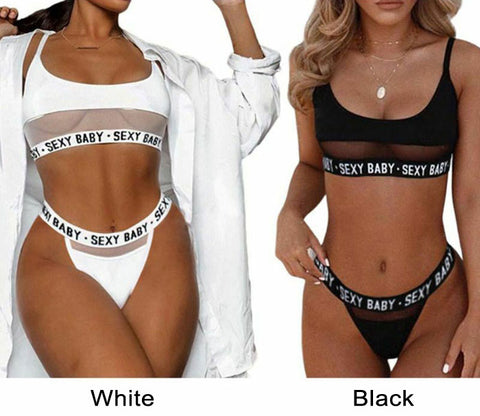 Weight:50g
Color:Black,White
Fashion Element:Mesh/Sexy Baby letter/Stitching
Style:Sexy
[Washing Tips] The water temperature is lower than 40 degrees, the best hand washing, do not use force, do not bleach and iron, hang dry
[Maintenance Tips] Sexy underwear can not be machine washed or bleached. It is recommended to use a weak salty laundry detergent to wash with hands and then dry naturally.
[Size]M/L/XL/2XL/3XL
M:Bust:68(CM)/26.8"-80(CM)/31.5"; Waist:68(CM)/26.8"-80(CM)/31.5";
L:Bust:72(CM)/28.3"-84(CM)/33.1"; Waist:72(CM)/28.3"-84(CM)/33.1";
XL:Bust:76(CM)/29.9"-88(CM)/34.6"; Waist:76(CM)/29.9"-88(CM)/34.6";
XXL:Bust:80(CM)/31.5"-92(CM)/36.2";Waist:80(CM)/31.5"-92(CM)/36.2";
XXXL:Bust:84(CM)/33.1"-96(CM)/37.8"; Waist:84(CM)/33.1"-96(CM)/37.8";
---
---
More from this collection